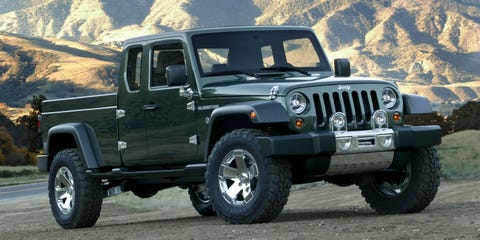 Jeep Reveals the 2020 Gladiator
If you've been waiting for something completely different to come along then does Jeep have something for you. Coming for the 2020 model year is a midsize truck, unlike anything that's ever come before. The all-new Jeep Gladiator promises to augment its uniqueness with unprecedented levels of capability, more than making up for the twenty-six-year gap in Jeep's line-up since their last pickup truck was in production. Taking Jeep's dependable and tough heritage, fuel-efficient but powerful powertrain options, utility, open-air freedom, off-road dynamics, and best-in-class 4x4 payload and towing to take control of the offroad world or haul pretty much whatever you could think to.
Unique Design
In an effort to distinguish itself from others in the segment, the 2020 Jeep Gladiator takes modern elements of design to create a look that is unmistakably a pickup yet still unmistakably a Jeep. The Jeep's iconic keystone grill has had its grille slots widened while its top lip now sweeps into the hood, allowing for greater aerodynamics and increased air intake. Square taillamps, a tradition on Jeep vehicles, lie to either side of a wide tailgate that offers not only convenient cargo loading and unloading, but the option to lock in three different positions as well. The Gladiator is also designed with open-air freedom in mind with its fold-down windshield and premium Sunride soft top that can also reduce wind noise as desired.
No Lack of Features
Mixing style, comfort, features, and versatility, the Gladiator brings them all together in ways just as unexpected as the Gladiator itself was. The center stack has a clean, sculpted form that's complemented by a horizontal dashboard. Charging port, climate control, and an LED display that's customizable with over one-hundred options are all sculpted into the dash and are not only easily recognizable for what they do but are easily reached by both the parties in the front row. Lumbar support and bolster are built into the seats, which in turn feature accent stitching. The rear seats are also made to be comfortable and supportive while also offering segment-leading legroom, a 115-volt AC outlet, and two USB ports.
Power Under the Hood
Thus far two powertrains have been announced for the 2020 Jeep Gladiator. Coming as the standard option will be the time-tested 3.5-liter Pentastar V6, offering a more than acceptable 285 horsepower and 260 pound-feet of torque. The Pentastar will come standard with a six-speed manual transmission, but for those with different needs, an eight-speed automatic transmission is also available. The demanding conditions of off-roading and hauling that the Gladiator was made for will benefit from the low-range torque that the Pentastar offers. The second option available is a 3.0-lite EcoDiesel V6 that puts out 260 horsepower, 442 pound-feet of torque, and is equipped with an eight-speed automatic transmission designed to handle an increased torque output. These powertrains are added to with such features as the segment-exclusive electronic sway-bar, 40 inches of water fording, Command- and Rock-Trac 4x4 systems, Danna 44 axles, sway-bar disconnect, 33-inch offroading tires, and Trac-Lok limited slip differential. All these powerful features come together to give the Gladiator a best-in-class payload of 1,600 pounds as well as best-in-class towing of 7,650 pounds.
Adventure Abounds
Boasting a design that could never be mistaken as anything but a Jeep truck, engine options that put the power in powertrain, and features upon features upon features, the 2030 Jeep Gladiator has us waiting with bated breaths for its release. With such power, capability, and a design all its own, the 2020 Jeep Gladiator promises to be on the most unique vehicles ever to be announced. So for those looking for adventure while maintaining the ability to work just as hard as they play, not to mention the iconic Jeep flair, then look forward to the upcoming Jeep Gladiator. Keep an eye on our inventory to know when we have the Gladiator available.